In 2022, we put LG NOVA's mission — Fuel innovation for LG and its partners by establishing a community to nurture, grow, and create businesses— into action.

Take a look at the timeline and recap of LG NOVA's primary initiatives, as well as, a deep dive into Innovation Fest and the Mission for the Future.
LG NOVA 2022 Recap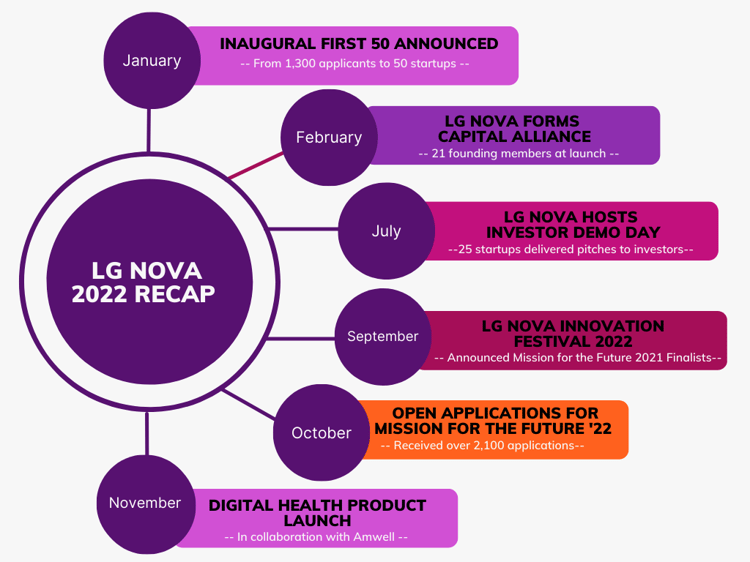 For LG NOVA, 2022 started with narrowing down the incredible 1,300 applicants from the inaugural Mission for the Future '21 to The First 50. These 50 companies represented startups and entrepreneurs in the areas of Connected Health, Energizing Mobility, Smart Lifestyle, the Metaverse and Innovation for Impact. In-collaborating with their assigned Entreprenuers-In-Residences (EIRs), these companies were tasked with developing and presenting a proposal on their innovative vision for co-created with LG Electronics. These proposals helped the team narrow in on the next step of choosing 20 companies for pilots to provide a real-world look into the proposals' viability. Results from the pilots determined what companies would be chosen by LG NOVA to build into business opportunities with LG.
In partnership with 21 founding member firms, including 501CTHREE, Cleveland Avenue, Lockstep Ventures, Marcena Capital and SDG Impact Fund, LG is launching the NOVA Capital Alliance. Its mission is to help drive business success for startups that strive to create solutions for some of the biggest challenges facing the world and build a better future for all.
In addition to collaborating with the LG NOVA team, the First 50 had the opportunity to partake in LG NOVA's first Investor Demo Day. Twenty-five companies stepped on stage to deliver their 3-minute pitch to investors in attendance in July, regardless of if they were chosen or not to move forward in the next stage of the challenge program.
September brought along the first-ever LG NOVA Innovation Festival, a two-day in-person event attended by startups, industry experts, investors, corporate executives, mentors and influencers to facilitate collaborative conversations on innovating for the future.
At the Innovation Festival, LG NOVA announced the finalists chosen for LG NOVA's inaugural challenge - The Top Ten. These finalists showed great potential throughout the process, securing the approval of LG NOVA executives to pursue their business proposal. Since then, the work has not stopped. The joint LG NOVA and companies teams continue to work together to find the best path forward for joint collaboration.
With submissions opening on September 1st for the next Mission for the Future Global Search, the Innovation Festival was an excellent opportunity for companies interested in working with LG to learn more about the program, and meet with LG NOVA EIRs to speak to team members on submitting their companies for consideration.
Fast forward to October, LG NOVA received applications from over 2,000 startups!
Rounding out the year, and moving forward with the strategic vision of improving people's access to health and healthcare services, LG NOVA celebrated its launch of a virtual care solution with Amwell, the Carepoint™ TV Kit 200L, as its first product solution for the Digital Health care market. This incredible tool is engineered to expand clinicians and care teams reach through virtual rounding, nursing, e-sitting and isolation room monitoring. This enables tasks like patient admission and discharge, medical reconciliation, care coordination with patients, family members and other providers and patient monitoring all to be done from one convenient location, resulting in increased efficiencies, reduced drive-time and rounding time, maximized resources and optimized time and space.
Now, let's take a closer look into the Innovation Festival and Mission for the Future.
LG NOVA Innovation Festival
Innovation Festival was an incredible highlight—a two-day event that brought together startups, industry experts, investors, mentors and influencers to facilitate collaborative conversations on innovating for the future.
Here's a look into all that kept attendees busy and innovating from September 7th to September 8th: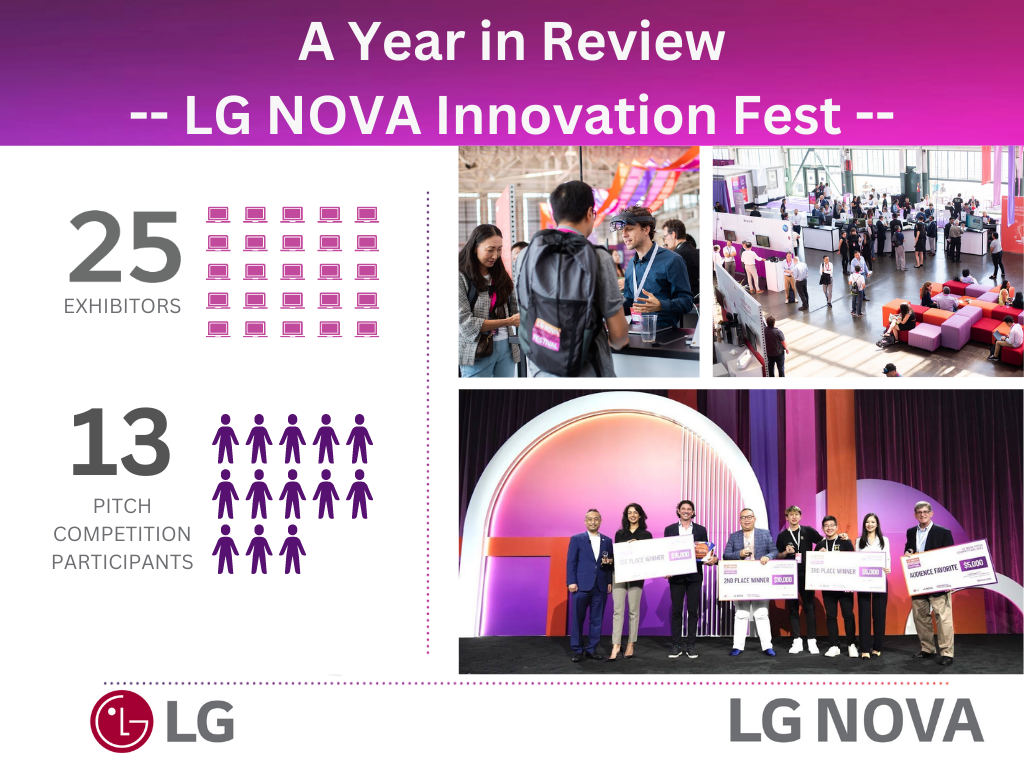 Startup Competition with 12 companies and 3 rounds of Q&A, live demos, and company overviews. Congrats to the winners: Trendi, Skinopathy, Metalistings, and Helios Data.

Engaging Panels: With over 70 speakers and panelists ranging in topics from monetization and business models to what's next in the metaverse and digital health.

Exhibits & Demos: LG NOVA's First 50 Companies showcased their innovations across 5 main tracks: Metaverse & Gaming, Digital Health, Open Innovation, ESG & Energizing Mobility, and Smart Lifestyles.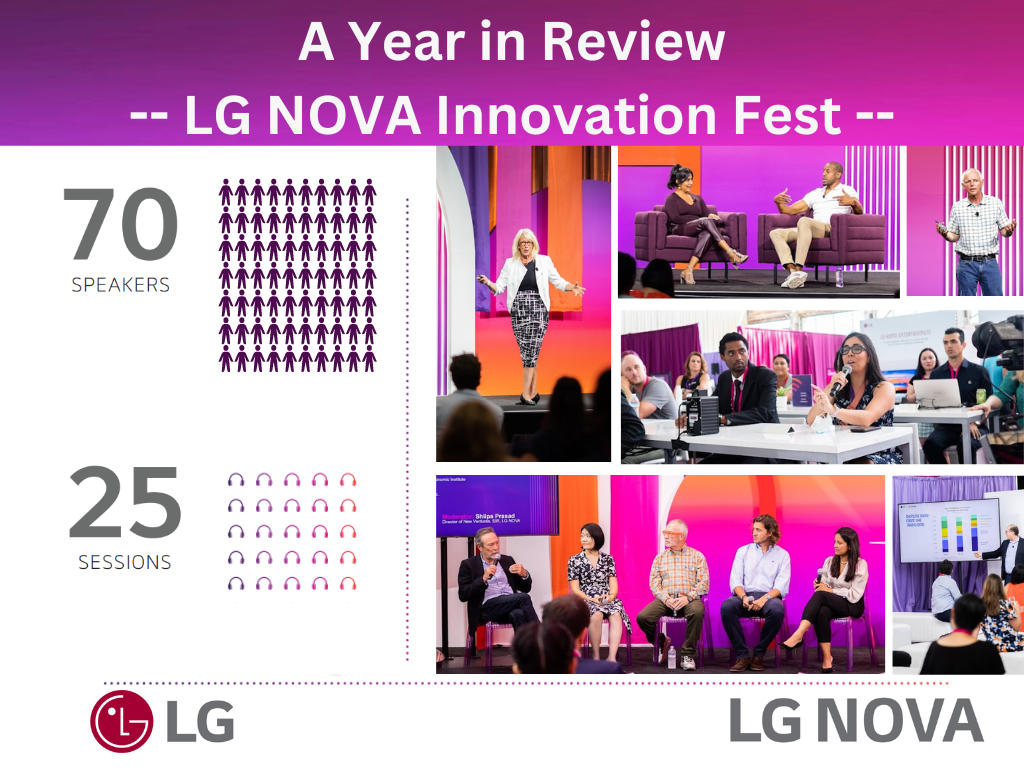 Inspiring Keynotes:

Andre Iguodala, NBA Champion with the Golden State Warriors, Co-founder, General Partner Mastry Ventures.

Mary Lou Jepson, founder of Openwater and One Laptop per Child

Mark Tarpenning, an engineer, serial co-founder of NuvoMedia and Tesla, Inc. and Venture Partner at Spero Ventures
Mission for the Future 2022
At LG, the company believes anything is possible and is passionate about improving the quality of life through innovation. Here's a look at the breakdown of the submissions to the program, highlighting its global scope, diversity and potential impact.
Applicants for the Mission for the Future '22 came from 116 different countries spread across six categories.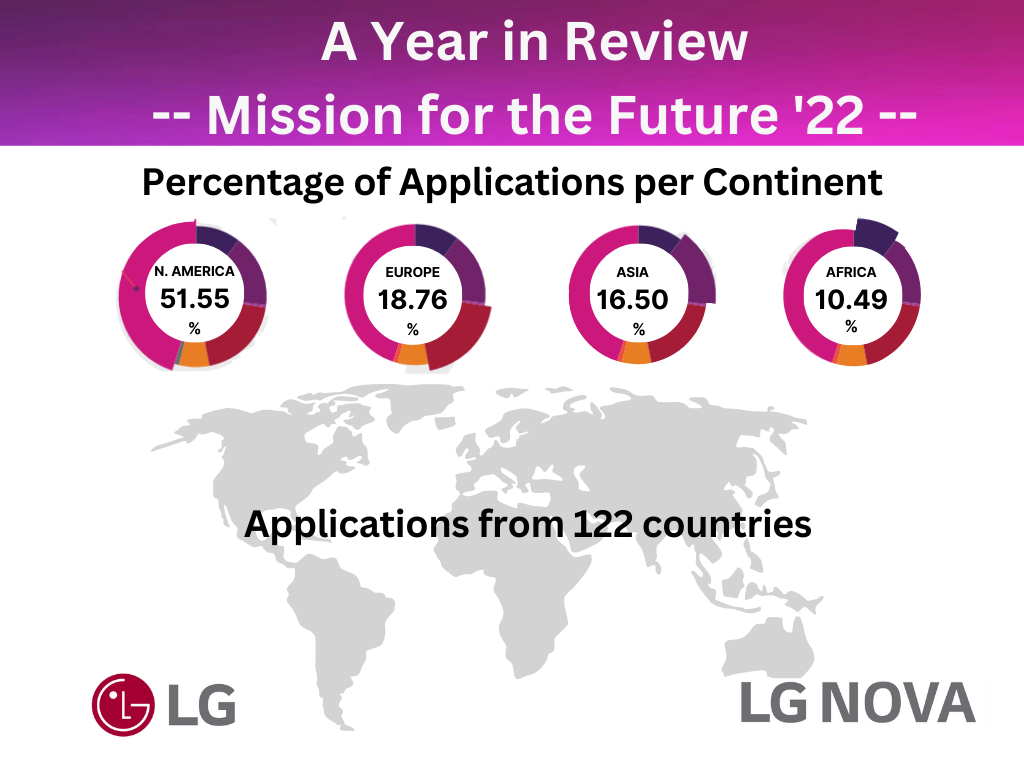 Open Innovation was the most popular category, with companies dedicated to discovering new ideas to help LG NOVA create the future.
Digital Health, transforming the concept of health and wellness, was in a close second, followed by Metaverse and Gaming, Smart Lifestyles, ESG and Elector Mobility and Display Solutions.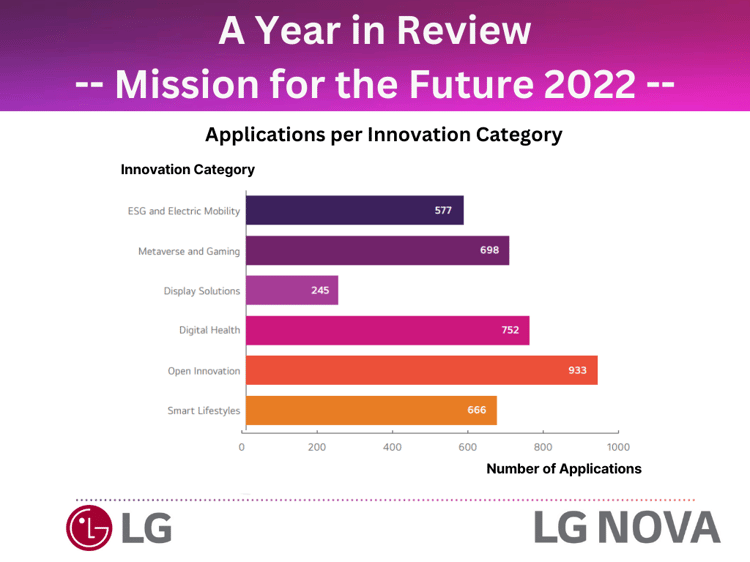 Thank you for all your support in 2022. LG NOVA can't wait to further grow the mission in 2023—stay tuned!